the electronic delphian
Our Senior Class Yearbook
| Aa - Be | Be - Ca | Ca - Cr | Cr - Do | Du - Ga | Ga - Ha |
| Ha - Ho | Hu - Ki | Ki - Le | Le - Mc | Mc - Mo | Mo - Os |
| Os - Pu | Qu - Ro | Ro - Sh |
| Index |
Hey, man...sign this groovy annual!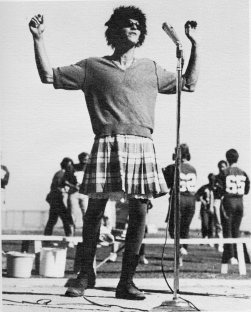 Doing his utmost to generate enthusiasm in the senior stands, Leif Voeltz lends his support to Powder Puff football players while rooters lend their support by throwing eggs.
"When you're dissatisfied and
would like to go back to your
high school days, think of Algebra."